The Manhattan Beach Pier was built in 1920 and is a state historic landmark, as it is the oldest concrete pier on the West Coast.
The pier was designed by A.L. Harris in 1916 to replace the old "Iron Pier" that blew down in the storm of 1913. There were several delays the construction. The city trustees did not approve the plans until September of 1917. Construction was started but was then delayed because the first contractor went bankrupt, and the project was later transferred to a second contractor who finished the main pier structure after World War I.
The grand opening of the 928-foot-long per was finally held on July 5, 1920. However, the pavilion (i.e., the roundhouse) at the end of the pier and the completed until July 4, 1922. The "bath house" was located beneath the pier deck at the base or foot of the pier. This facility included bathing suit rentals, beach umbrella rentals, 360 lockers, and changing rooms.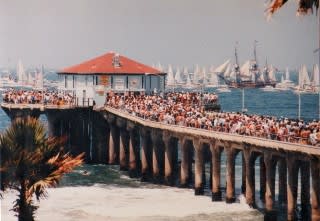 1984 – "TALL SHIPS" AND SAILBOATS WITH THOUSANDS OF VIEWERS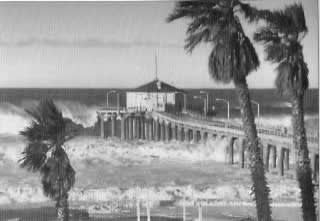 HUGE WAVES FROM THE EL NIÑO STORM IN THE WINTER OF 1988
During the 1920s – 30s visitors to Manhattan Beach came to experience a day at the beach or a day of fishing. The Manhattan Beach Pier was immediately known for its fine fishing. Many people rode the trolley inland to catch large sea bass, , and halibut. In 1924 a 200 foot-long "Wooden Extension" was added to the end of the pier. It remained in service until it was completely destroyed by the winter storms of 1940 and 1941.
The pier continued to be enjoyed during the 1940s, 50s, 60s 70s. For the opening celebration of the 1984 L.A. Olympics, there was a July 4 "Tall Ship Parade of Sail" past the pier with a parade of both large sailing ships and small . There were thousands of viewers for this event.
Over the years, the pier has been subjected to large waves from winter storms, but perhaps none so fearsome as the waves that hit the pier in January of 1988. It was necessary to close the pier because the tops of the waves were sometimes above the deck level. The cumulative effect of the winter storms had badly eroded the pier. In 1984 a 150-pound chunk of concrete fell on a jogger, paralyzing him. A net was installed to protect joggers and a committee was formed to consider a restored pier versus a new pier with a restaurant on the end. It was ultimately decided that the existing pier would be structurally reworked.
The California Department of Parks and Recreation was involved and acted on the recommendation of the Manhattan Beach Council in 1989. The resultant restoration was begun in February 1991 and completed by July 18, 1992. The deck, roundhouse, and lifeguard station were completely replaced. The original design for the 1920 pier lights were utilized and the tile roof of lifeguard station matched the tile roof on the roundhouse. The new roundhouse houses a state of the art aquarium.

Sources:
https://manhattanbeachhistorical.org/pier/
https://www.citymb.info/residents/about-us/history